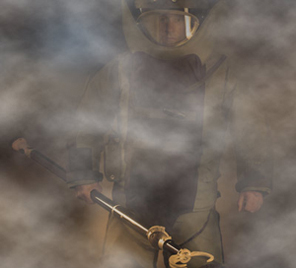 Dexter Hot Stick
Dexter Explosive Ordnance Disposal & Tactical Equipment
"Protecting Those Who Protect Us"
In 2005, a local ATF Agent came to Dexter requesting specialty EOD tools. Our team designed tools and created a kit based upon that request. Since then, Dexter has developed a number of standard and customized kits as well as specialized tools used in the mitigation of explosive devices. Today our product lines have expanded to include breaching tools as well. Thus, our pledge to "Protect Those Who Protect Us!"
Here at Dexter, we are not EOD experts or technicians but we work closely with technicians and field agents to develop the tools they need. We are proud to work with the men and women who are in harms way, developing and manufacturing the tools they need here in the USA.

Attending Breaching Training