Globe Valve Reseaters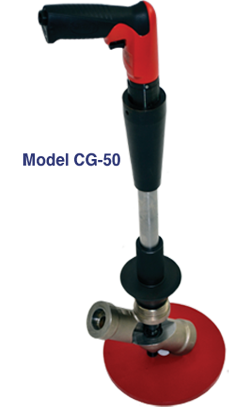 Globe valve grinding from the same reference point used in machining the original seat is a Dexter feature that guarantees accuracy in reseating irregular valve seats. Globe Valve grinding Discs are power driven for faster easier grinding.
*Note: Models 100R and 400 are available in military model with additional discs & abrasive included. Each with it's own NSN #. Contact us for more information
Globe Reseater Features:
• Quick efficient set up
• Designed for easy operation
• Use on both seat and seal surfaces
• Self centering by cone or 3 jaw chuck
• Comes with 45° discs & abrasives
• Stock angle discs of Flat, 15, 30, 35, & 45 degrees
Available individually or in sets
• A wide selection of abrasive grits and abrasive types available
Optional accessories available:
Long spindles and supports, steam chest discs and abrasive, special disc sizes and angles, reseater to valve mounting adapters. Please call for details.
| Model | Size Range | Maximum Reach to Seat Top | Minimum Reach to Seat Top | Required Overhead Clearance | Minimum Access of Throat | Outside Diameter of Discs |
| --- | --- | --- | --- | --- | --- | --- |
| CG-50 | 1/2 - 2 1/2" | 8" | 1 3/4" | 16 3/8" | 1 3/8" | 1/2" - 2 3/4" |
| 100R | 1/4" - 4" | 5 3/4" | 1 3/4" | 16 3/8" | 1" | 1/4" - 4 9/16" |
| 400 | 4" - 12" | 18" | 4" | 28" | 3 7/8" | 3 1/2" - 12 3/4" |
| 800 | 14" - 24" | | | | | |
Download the Dexter Gate/Globe Valve Reseater Information PDF